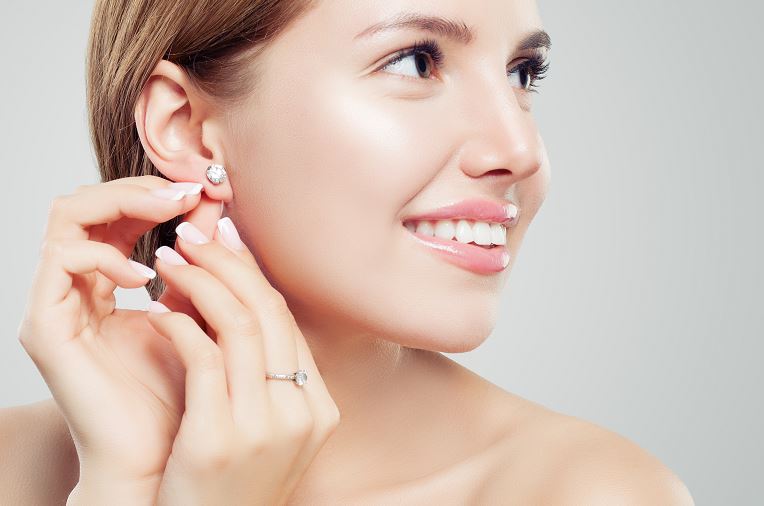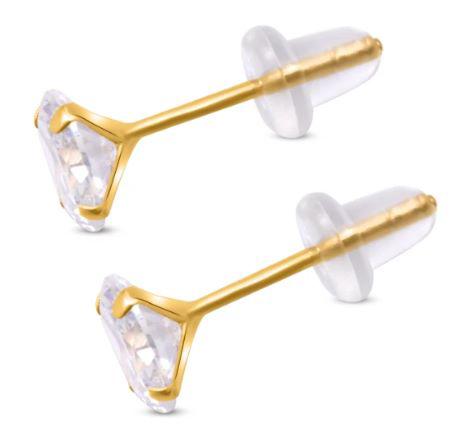 Nova Brilliance: 10k REAL Yellow Gold E-F VS 100 Facets Moissanite Earring 1.00ctw
$70.00
Regular price
$199.99
off
EXTRA 30% Off On Every Purchases. (No Code Required, Auto Applied On Checkout)
Free Shipping on everything.
Free 10k Yellow Gold Earring Worth $99 on Order Above $299
Use Shop Pay on Checkout to avail 4x interest free Installment.
Free Fast Shipping On Everything.
30 Days Money Back Guarantee
Description
Fair Pricing
Returns & Refund Policy
Delivery Information
The 10k Gold E-F VS Moissanite Stud Earring 1.00 ctw is a pair of high-quality stud earrings that are made with 10k gold and feature stunning Moissanite stones. The earrings have a total carat weight of 1.00 ctw and are designed to sparkle and shine in any light.
Closure Type- Rubber Back 
Moissanite is a popular alternative to diamond for several reasons. It has a higher refractive index, meaning it reflects more light and creates more sparkle, making it more brilliant than diamond. Additionally, moissanite is generally more affordable than diamond, making it a great option for those on a budget. Moissanite is also an ethical and environmentally friendly choice, as it is lab-grown and doesn't have the same ethical concerns as diamond. Finally, moissanite is a durable and long-lasting stone, making it great for everyday wear.

As the world's most brilliant gem, Forever Moissanite outshines all the rest. This incredible white gemstone is full of fire and perfect for those who want the highest quality, responsibly sourced gemstones at an unbeatable price.

High-quality materials: The JE TÁIME stud earrings are made with 10k gold, which is a durable and long-lasting metal that is also hypoallergenic. This means that the earrings are safe to wear for people with sensitive skin.
Stunning Moissanite stones: Moissanite is a lab-created gemstone that is known for its brilliance, fire, and clarity. It is also more affordable than diamonds, making it an excellent choice for those who want a high-quality gemstone without breaking the bank.
VS clarity: The Moissanite stones in these earrings are rated as VS clarity, which means that they have very few inclusions or blemishes. This ensures that the stones will sparkle and shine brightly.
E-F color: The color rating of these Moissanite stones is E-F, which is considered to be in the colorless range. This means that the stones will appear bright and white, just like diamonds.
Total carat weight: The total carat weight of these earrings is 1.00 ctw, which means that each earring has a 0.50 ct Moissanite stone. This size is perfect for everyday wear or for special occasions.
Versatile style: The stud design of these earrings makes them versatile and easy to wear with any outfit. They can be dressed up or down and are perfect for adding a touch of sparkle to any look.
Excellent value: Moissanite is a more affordable alternative to diamonds, which means that these earrings offer excellent value for their quality and beauty. They are a great investment for anyone who loves jewelry and wants to add a stunning pair of earrings to their collection.


Looking for the best place to buy gold online in the USA? Look no further! Introducing our 10k Gold E-F VS Moissanite Stud Earring 1.00 ctw, the epitome of elegance and affordability. Crafted with 10k gold, these exquisite stud earrings showcase brilliant Moissanite stones that radiate with every movement. With a total carat weight of 1.00 ctw, they are guaranteed to capture attention and light up any occasion. Don't miss out on this fantastic opportunity to own the cheapest and best way to buy gold online. Shop now and experience luxury at an unbeatable price!
At World Gold Shop, we believe in fair pricing and Unlike major brands in our industry those markup on gold products are 8-10 times the actual cost.
We buy directly from manufacturers in USA, Italy, Thailand, Indonesia, and Turkey, allowing us to eliminate middlemen and pass these savings directly to you.
Within 30 days of your order, we will be happy to offer you a full refund returned to the card used in the original sales transaction.

Please note all pieces must be returned in a new and unworn condition and in their original, undamaged packaging along with your completed returns, for more information click here.
Free fast shipping to the USA on all orders. Each piece comes beautifully packaged in a gift box. Shipping confirmation with tracking number provided.
Nova Brilliance: 10k REAL Yellow Gold E-F VS 100 Facets Moissanite Earring 1.00ctw
$70.00
Regular price
$199.99
Unforgettable Gift
I recently purchased a 4 prong Round Moissanite Solitaire pair of earring for my fiance. Our wedding is coming up this year in June. It is finally approaching and this was the perfect gift to surprise her before our wedding. She was stunned at the quality, clarity, and brightness of the Moissanite gemstone! There is no doubt in my mind I will definitely be purchasing from WGS.
Thank you so much, Joyce, for your wonderful review! We're thrilled to hear that the 4 prong Round Moissanite Solitaire earrings made for an unforgettable gift for your fiance. Congratulations on your upcoming wedding in June! We're delighted that she was stunned by the quality, clarity, and brightness of the Moissanite gemstone. We appreciate your support and look forward to serving you again in the future at WGS.
Perfect and Stunning
I bought these earrings for my mother's birthday and they're stunning. The shine and craftsmanship is absolutely beautiful! You can see the glint and sparkle from across the room without wearing a big stone. It's obviously a true Moissanite and not a piece of crystal or even cubic zirconia.
Thank you, Washi! We're thrilled you found our earrings perfect and stunning. The shine and craftsmanship truly make them stand out. We take pride in using genuine Moissanite to ensure the best quality. Your satisfaction means a lot to us. If you need any assistance, please let us know. Enjoy your beautiful earrings! ✨
Beautiful Authentic Moissanite Earrings
I received my earrings on 5/1 and they were beautiful , sparkling and authentic Moissanite. I highly recommend this seller and I definitely will be purchasing from them again .
'Thank you for your wonderful review! We're thrilled to hear that you love your beautiful and authentic Moissanite earrings. We appreciate your support and look forward to serving you again in the future!'
Excellent customer experience
Easy to navigate website, delivery was very prompt and earring was beautifully packaged and very high quality Moissanite. It looks like White Diamond.
Thanks for the positive review! We're glad you had a great customer experience and that you're happy with the quality of our Moissanite earrings. We hope to have the pleasure of serving you again soon!
Simple but steal
Saw your company ad on facebook and visited WGS few minutes before looks very alluring real gold prices . I walked through your online store and compared with other companies great savings on gold.
Thank you for your review! We're so glad to hear that our ad caught your attention on Facebook and that you found our real gold prices to be alluring.
We take pride in providing great savings on gold while still maintaining the highest quality, and we're happy to hear that you compared us to other companies and found us to be a great choice.
We hope you'll consider us for your future gold purchases!
FAQ
Are your products actually made of gold?
Yes, all of the gold in our selection of women's chains is genuine solid gold. 
Are your chains intended for men or women?
We believe gold is everyone's language and has no dedicated gender. However, some of the chain designs will excel on women while the chunky and broad ones will complement our male customers. It is all solely in the customer's hands; our designs can please every soul!
How do I make my order payment?
We accept payments made using all standard credit and debit cards. We require your credit or debit card number, expiration date, start date, card type, cardholder's name, and security code when you use your card to purchase something from us. You may relax knowing that your credit card information will be totally encrypted to keep it secure. Additionally, we guarantee that we won't share your information with any third parties.
What's the delivery cost? 
We provide free shipping on purchases above 49.99 USD. You will be charged a minimum of $4.99 if you purchase anything for less than the specified price.
How much time will it take to deliver my order?
Delivery within the United States normally takes 3-5* business days after your order has been processed. 
Can I return my order?
Even though we are confident, you will be happy with your WGS purchase, in the unlikely event that you are not completely satisfied for any reason, just follow the return instructions you received along with your order or visit our Return or Exchange Page for more details. To receive a complete refund, simply return the item to us within 30 days after the shipment date (including taxes).
Shipping
Shipping Confirmation
On the day that your order ships, you will receive an email with a tracking number and a confirmation of shipment. A confirmation email will be sent within two business days of your order being placed. If you have yet to receive your delivery confirmation email, contact Customer Service at customerservices@wgs.com, give us a call at ___ ___ ___ or get in touch with our team by mail.
Shipping Times Disclaimer
For your needs, World Gold Shop offers a range of shipping services. The shipping periods are only suggestions and could change depending on the season, the number of orders, natural catastrophes, extreme weather, or other unforeseen service interruptions. Monday through Friday are considered business days; weekends and federal holidays are not included.
Where is My Order?
Please feel free to contact customer care by calling __ __ ___ or sending an email to customerservices@wgs.com if your product has not arrived by the last expected shipping day shown above.